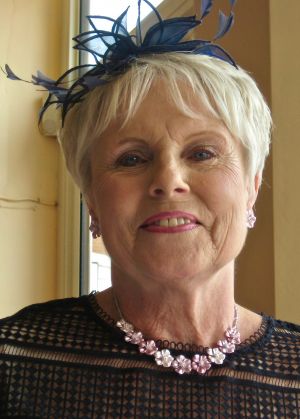 President Rita Rowlett
About our Club
Broadstairs Club meets at North Foreland Golf Club on 3rd Monday of the month. Meetings are held in the evening 6.45pm for dinner at 7.15pm, (except August). Our membership currently stands at 26.
For more information please use 'Contact Us' page
---
Broadstairs Inner Wheel 2017/2018
The President's Charity -
The League of Friends & Broadstairs Life Boat
---
---
Advanced Notice of our Meeting on Monday 16th April 2018
Joint Clubs and Silent Auction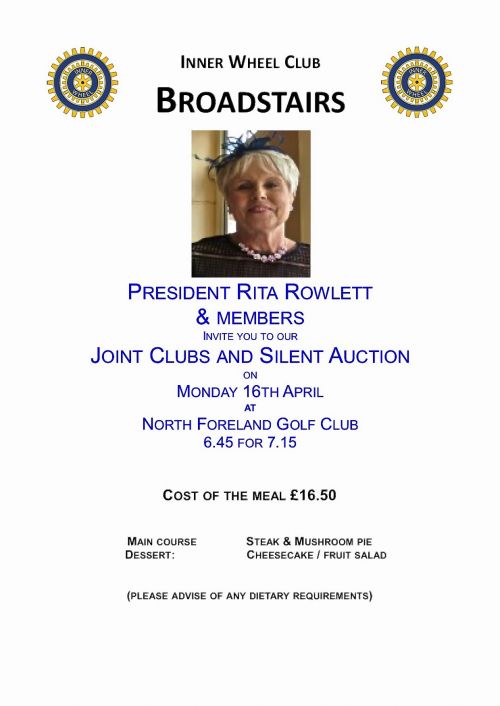 ---
Watch this Space
Quiz Night at St Peter's Church Hall
Saturday 14th April 2018
---
Monday 15th January 2018
Speaker Carolyn Goddard
"Is your Journey Really Necessary"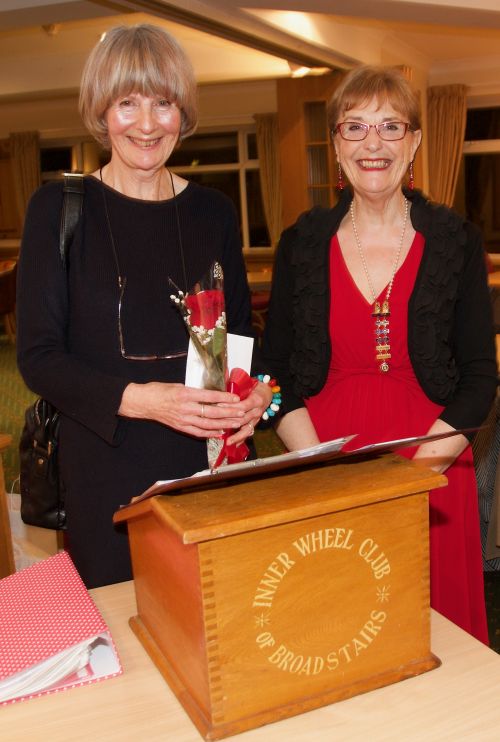 Acting President Val Hinds is pictured with our speaker for the evening Carolyn Goddard.
After a delicious meal at the Golf Club Carolyn spoke to us about the trials and tribulation she encountered whilst travelling to France. First in the early days as a 13yr old, when it was normal practice for a young girl to travel by train, on her own, in a strange country to meet people she had never met, in order to learn french. Later, stories relating to the restrictions imposed by the airline companies on travellers after the Shoe Bomber incident, and then what can go wrong when travelling by car, a very interesting talk.
---
Inner Wheel Day 10th January
Broadstairs Ladies are seen above celebrating Inner Wheel Day at the home of one of their members.
The focus this year was the advanced preparation of Shoe Boxes. A discussion took place into what exactly should go into the boxes which will eventually be distributed to Albania, Bulgaria, Hungary, Kosovo and many other bordering countries
---
18th December
Christmas Dinner
Our meeting in December was our Christmas Dinner with husbands, held at North Foreland Golf Club.
The raffle raised £69 for the QEQM League of Friends.
---
President Rita Rowlett helps Broadstairs Rotary with their Christmas Collection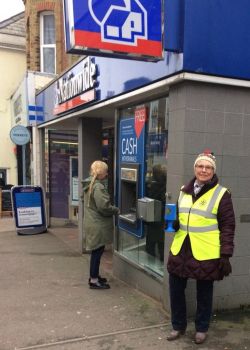 ---
Bridge Competition
President Rita has informed us that Wyn Briggs and Linda Stanford have won their first round in the Bridge Competition. Congratulations to both of them and good luck in the next round.
---
Thursday 14th December 2017
Members of Broadstairs Inner Wheel
take part in
The Joint Thanet Clubs Carol Service
at the Baptist Church Queens Road Broadstairs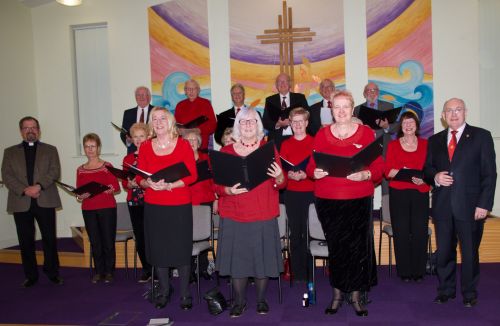 Choir Master Chris Hedges, accompanied by The Reverend Peter Russell who played the piano are pictured with the choir at the Baptist Church Broadstairs.
---
Inner Wheel Poetry Competition
Closing date 12th December
Leave a Lasting Legacy




The Francis Forbes Barton

Old and abandoned by seafarers all,

Rotting, crumbling, stuck fast on arid land,

Once did answer Earl Goodwinís trembling call

Neglected now, she cries for helping hand.

Brave crews who manned her all those years gone by,

Capsized thrice, thrown beam end with sail and mast submerged;

Survived, but not revered, I hear you sigh,

Not then, but now, her former neglect purge.

With mouldering frame and sails destroyed by choice,

This grand old lady, lifesaver of the past

When marinerís shipwrecked hearts did once rejoice,

Cries loud, for restoration and repair, at last.

Presidentís charity sets out to lead the way,

Legacy, lasting, she will stand high for all to view;

Display now in splendid style on Bradstow Cliff, this day,

Repaired, restored, revered, reborn, renew.

Broadstairs Inner Wheel District 12



---
Sunday 3rd December
Me Before You
Our Film Night on Sunday was a great success. The Palace Cinema in Broadstairs was full for the special showing of the film "Me Before You" starring Emilia Clarke and Sam Claflin. Not a dry eye in the place, the audience really enjoyed the evening. A raffle was also held which helped to boost the funds raised. Proceeds will go towards our President's Charity, The Frances Forbes Barton, the Broadstairs Life Boat from 1897 to 1912. John Nichols, a member of the "Friends" who is overseeing her return home for a full and sympathetic restoration, spoke to everyone updating them on the current status of this grand old lady and thanked Broadstairs Inner Wheel for all the work involved in helping to raise funds for her renovation and repair.

The evening raised £505.00

Thank you everybody for your support.
---
Sunday 12th November
Remembrance Sunday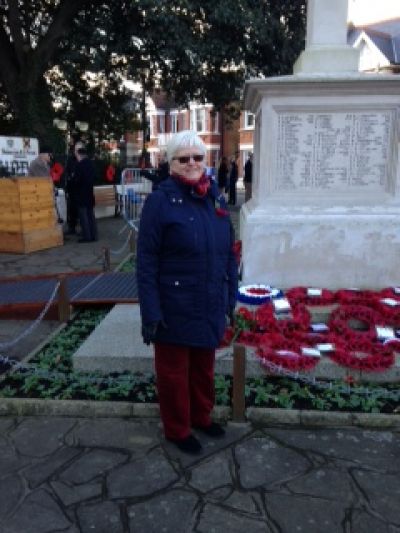 Sheila Dicks, acting President of Broadstairs Inner Wheel is pictured at the Broadstairs Cenotaph after laying the Remembrance Day wreath on behalf of the Club.
---
Wednesday 8th November
International District Rally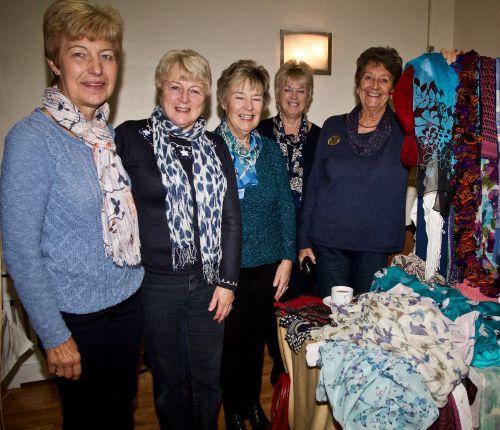 Ladies from Broadstairs Inner Wheel are pictured next to the scarf stall they manned at the International District Rally held at Ditton. A sum of £130 was raised which went towards the total of over £3,000 raised by the District, for WaterAid UK. Funds raised will be matched by Government funding, so well done everybody.
---
Thursday 26th October
Diabetes UK
Know Diabetes, Fight Diabetes.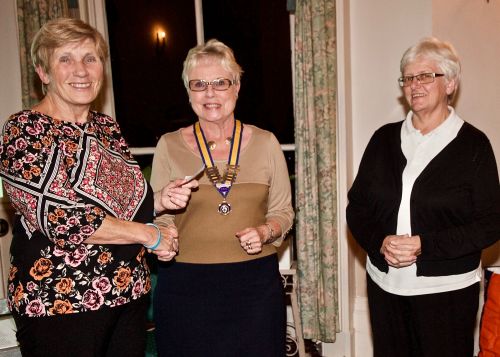 President Rita and Sheila Dicks are pictured presenting a cheque on behalf of Broadstairs Inner Wheel to Eileen Doherty Chair of Diabetes UK, Thanet Group. Group meetings are held monthly on the last Thursday of each month, from February to July and then from September to December at Northdown House, Northdown Park Cliftonville, at 7.30pm. After the cheque presentation Philip Chandler gave a very interesting slide show on the prevention and management of this major medical condition.
---
Wednesday 25th October
Knitted blankets for Operation Sunshine
Jill Barber, Past President of Broadstairs Inner Wheel has worked tirelessly to produce these beautifully knitted blankets for our International Charity, Operation Sunshine. Operation Sunshine has a depot in Folkestone and large items can be taken there directly. However these blankets will be taken to the District meeting at Ditton on Wednesday 25th October, for onward transmission.Thank you Jill for all your hard work.
---
October 16th
District Chairman - Ruth Portway's Visit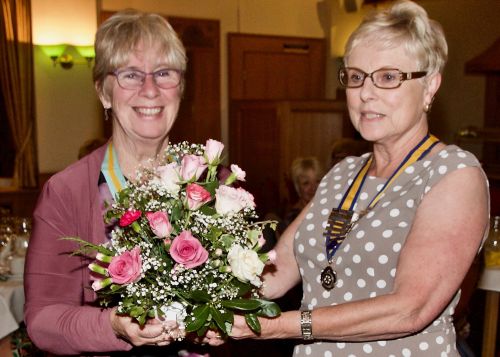 President Rita Rowlett is pictured presenting a basket of flowers to District 12 Chairman, Ruth Portway, our speaker for the evening. Ruth, as well as being District Chairman is also the Immediate Past President of Gravesend Club.
After a delicious meal at the Golf Club, Ruth spoke to us about our achievements during the previous year and praised us for our efficient running of our Club. The District charity for 2017/18 is Diabetes UK, however Rita agreed with Ruth that rather than give a cheque for the charity to District, Broadstairs would make a donation to our local Diabetic support group. Ruth then presented Rita with a Hebe plant, the flowers of which represent all the clubs in District. Jill Barber was then called upon to give the vote of thanks.
---
September 26th
Edinburgh Woollen Mill - Fashion Show
Ladies from all over Thanet gathered together in Holy Trinity Church Hall, Broadstairs on 26th September to watch Edinburgh Woollen Mill's Autumn Collection presented by President Rita's team of models. Edinburgh Woollen Mill once again displayed a selection of beautiful clothes that are available at their outlet in the Wyevale Garden Centre in Ramsgate. Fizz and nibbles were provided by Inner Wheel and a raffle was held to support the evening. The event raised £547.38 for our International Charity and the Broadstairs Life Boat Restoration Fund.
---
Club Meeting Monday 18th September 2017
Speaker Kevin Cooke on "My Life as a Town Sergeant"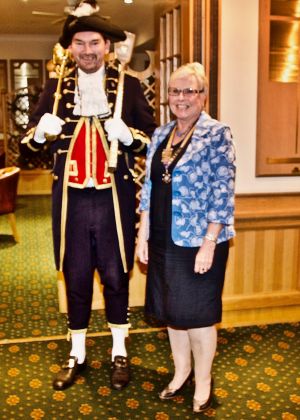 Broadstairs Inner Wheel started the year with an explosion of events.
In August members supported the QEQM by raising a sum in excess of £157 for the League of Friends, at the hospital fete. Later in August a coffee and cream scone social was held at Mama Feelgoods at QUEX. Early in September Broadstairs took part in a Quiz night organized by Westgate and Birchington Inner Wheel, taking first place in the competition.
Our Club meeting was held at North Foreland Golf Club on Monday 18th September, where after a delicious meal, President Rita Rowlett introduced the speaker for the evening, Town Sargeant for Sandwich, Kevin Cook. Kevin, wearing ceremonial livery topped with a tricorn hat talked about his job attending the Mayor of Sandwich. Following the terms of his job description, which dated back to 1736 in the reign of George II, Kevin explained how the MACE symbolised a weapon once used to protect the Mayor and his jewels. Kevin also took on the roll of Town Cryer in 2011 which allows him to cry on behalf of Sandwich and the Cinque Ports.
A film night, featuring Me Before You @ the Palace Cinema in Broadstairs on Sunday 3rd December 5.15 for 6.00pm is next on the Broadstairs Inner Wheel agenda. Tickets are £5. with proceeds going to our Presidentís Charity the Broadstairs Lifeboat Restoration Fund Ė The Francis Forbes Barton.
---
Club Meeting July 17th 2017
Speaker John Nichols on "The Francis Forbes Barton 1896-1912
Broadstairs Life Boat
President Rita Rowlett introduced our speaker for the evening John Nichols. John spoke to us about the Broadstairs Life Boat, that he and a group of his friends have rescued and brought back to Broadstairs after more than 100 years, to be renovated.
This grand old Lady - The Francis Forbes Barton - is a 'lifeboat built by Rutherfords of Birkenhead and served at Broadstairs from 1897 to 1912. She then saw service through the Great War at North Deal before being sold out of service in 1926.
CLUB PROGRAMME
2017
July 17th Club Meeting @ Golf Club - Speaker John Nichols "Broadstairs Life Boat"
July 27th DISTRICT - Club Officers' Assembly @ Ditton Community Centre 10.00 for 10.30am
---
August 5th QEQM Fete 9.00am setup. Start 10.30am - 2.00pm
---
Sept. 18th Club Meeting @ Golf Club -Speaker Kevin Cooke on "My life as a Town Sergeant"
Sept. 26th Fashion Show @ Holy Trinity Church Broadstairs
Sept 27th DISTRICT Cameo Lunch @ Chart Hills Golf Club 12.00 for 12.30pm
---
Oct. 16th Club meeting @ Golf Club - District Chairman's visit - Ruth Portway
Oct. 25th DISTRICT meeting @ Ditton 10.00am for 10.30am
---
Nov 8th District International Rally @ Ditton 9.30am setup for 10.00am start.
Nov 12th Remembrance Sunday Broadstairs
Nov. 20th Club Meeting @ Golf Club - Speaker - Margaret Ovenden "Catwalk to Quire"
---
Dec. 18th Club Christmas meeting @ North Foreland Golf Club, with husbands 6.45 for 7.15pm
---
2018
Jan 10th INNER WHEEL DAY
Jan 15th Club Meeting @ Golf Club, Speaker Carolyn Goddard "Is your journey really necessary"
---
Feb. 20th Club Meeting @ Golf Club - Business meeting (voting papers)
---
Mar 14th DISTRICT meeting @ Ditton
Mar 19th Club meeting @ Golf Club, Speaker Sheila Burke on 'The Poetry of Life'
---
April 16th Club Meeting @ Golf Club Joint Clubs Evening & Silent Auction.
April 25th DISTRICT Quiz Ditton 6 for 6.30pm
April 28th Broadstairs Inner Wheel - Wine & Wisdom @ St Peter's Church Hall.
---
May 21st Broadstairs INTERCLUB @ North Foreland Golf Club.
---
June 5th DISTRICT Rally @ Mercure Maidstone Great Danes Hotel
June 18th Club AGM & Handover @ North Foreland Golf Club
June 20th DISTRICT AGM & Handover @ Ditton 6.30pm
---